Sometimes, people suddenly want to take a picture, but they are faced with the fact that they do not currently have makeup or it does not match the vision of the photographer and model. It also happens that the stability of makeup cannot be ensured by being in a photo session due to various factors. So you can participate in a photo shoot in the pouring rain. However, there is some scientific and technical progress that will help you add makeup to your digital photo after its creation.
It won't take you long to do that. So, you should explore special apps for PC, online services, and even mobile applications that have a wide range of features. For example, you can activate applications for Android smartphones via a computer and a special MSI Player emulator.
FotoMASTER
This is an excellent example of a program with a powerful photo editor that will surely appeal to both ordinary users and professional photographers. This program will please you that its general functions are fully automated. It is enough for the user to choose the effect, and then the application will do the calculations and apply them in practice. It will show you a result that you can edit or remove from your photo.
There are some strengths of this app:
automatic recognition of facial parts;
a large number of ready presets;
customization for simple editing of individual facial features;
the ability to make facial alterations by changing the shape or size of their particular part;
the presence of such a useful tool as a corrector, with the help of which you can apply blush on your cheeks or change the tint of your eyes.
PortraitPro
Many amateur photographers will love this program because it uses neural network functions that help it recognize faces and carry out retouching automatically.
There are some strengths of this app:
changing the shape of the human face according to the chosen type;
quick removal of the red eye effect with very realistic results;
applying realistic makeup with the possibility of using high-light, lipstick, shadow, or mascara for eyelashes;
tools to eliminate wrinkles and align or change the facial tone.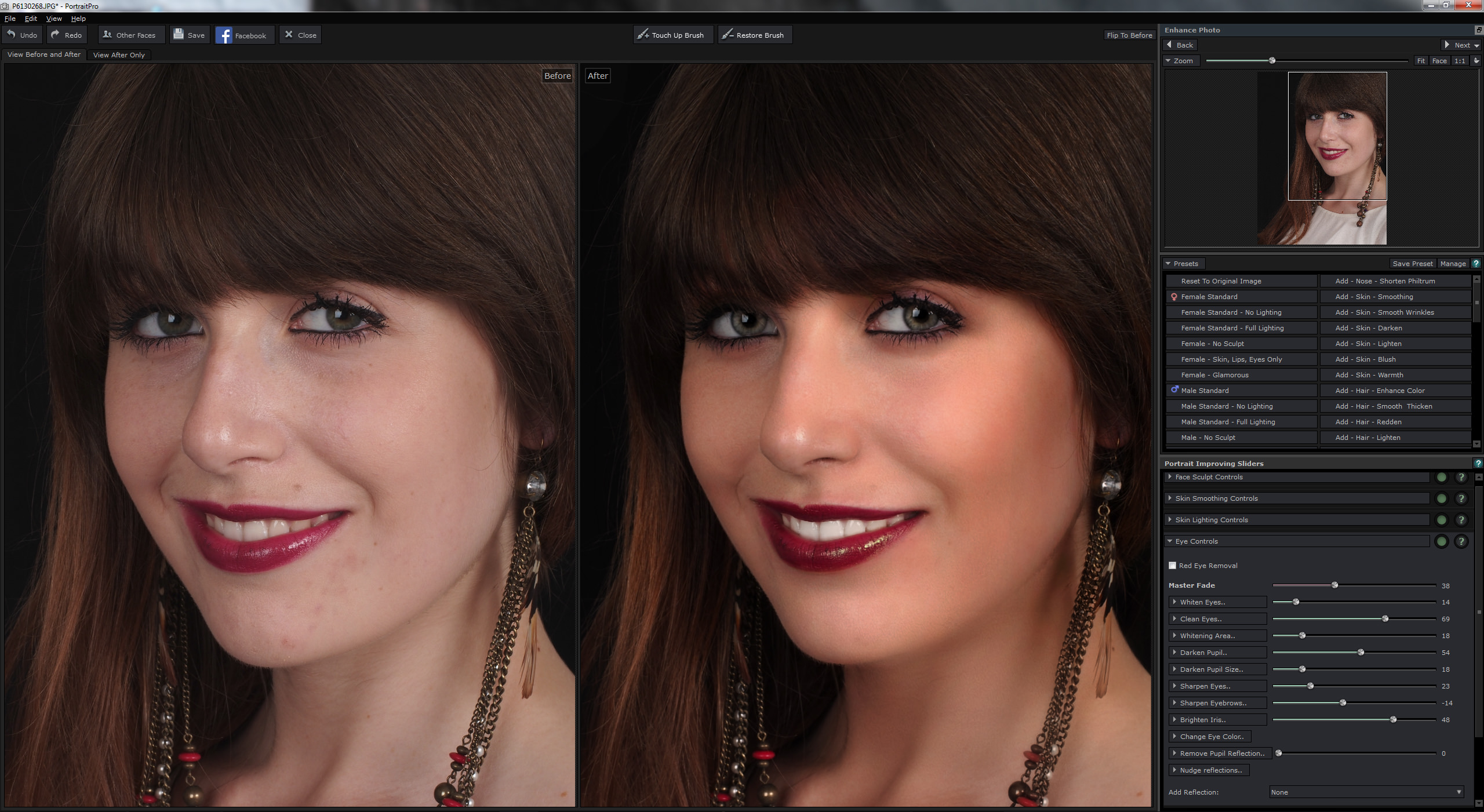 Photoshop
This is one of the best and most powerful photo retouching editors. It has no ready-made tools for creating virtual makeup and is a complex program for amateur photographers. That is why, first of all, professionals will be able to easily paint the lips, apply shadows and change the tone of the skin. If you don't have experience with such photo editors, you should download some tutorials from Photoshop. There are many such ones, and you will have no problem finding them. However, if the video you downloaded does not appear on your computer or mobile device, you should install such a useful tool as Xvid Video Codec.
There are some strengths of this app:
use of layers for separate cycles for editing individual parts creating;
easy and realistic elimination of some unpleasant defects;
the large number of brushes to create the most realistic makeup;
Photoshop perfectly combines with a graphic tablet that will help you add any details to your photo.
Makeover
It is a convenient program for Windows PC users. All you need to do is upload the photo to this program to recognize it and offer you some makeup options, such as a harmonious and almost invisible or glamorous one.
There are some strengths of this app:
a large number of different cosmetic products;
a wide range of tools (so it has more than a hundred shades of lipstick).
We will not be able to describe all the excellent smartphone platforms, programs, and applications within this little review. But we can mention such useful programs as PhotoDiva, Photo Makeup Editor, YouCam Perfect, Facetune2, Perfect365, MakeupPlus, AirBrush, B612, Pretty Makeup, Fotor, Maybelland PicMonkey.